ROOF in Aliance, NC

Began installation 16 April, 2012. Roof is about 25.5 square. (2552 sq. ft.).
New roof material
(in order of use) =
cushion underlayment : ¼" fan-fold Styrogreen®

architectural eve trim
custom color matching flashing around chimney

profile matching foam eve closures
metal roof : 29 gauge residential (ag) panel (low profile ¾" ribs @ 9"). Color = Berry
fasteners : #8x1½" matching wood screws (w/domed washer and gasket) 33 per 3'x17'panel
corner trim used as rake (gable) trim to reduce likelihood of "oil-can" effect
low profile ridge-cap with mesh (vented) closures
Retrofit installation =
remove drip-edge at eves and excess shingles (over-hang) at entire perimeter.
install over existing shingles, This method, along with fan-fold, provides better protection and insulating properties.

Click underlined text to see additional information on materials.
Exact location and other information
omitted to protect customer's privacy.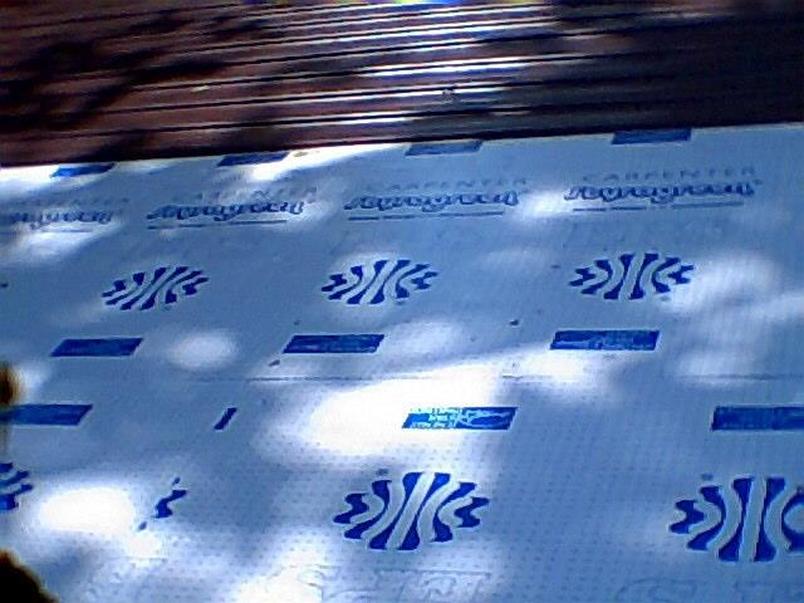 Showing insulation/underlayment and panels Click picture to see more information on this insulation.. http://www.trademarkia.com/styrogreen-77445787.html
Peak box for rake (gable) made from corner-trim.More pictures on facebook. https://www.facebook.com/media/set/?set=a.10150757698993637.434188.342767458636&type=1